Best Milwaukee Wedding Photographers: The Atrium MKE
---
Rooftop Sunset
---
How to find the Best Milwaukee Wedding Photographers?
---
Truly, the idea of finding the "best" is subjective, as is art. The question should be, who is the best wedding photographer FOR YOU?
Tips to find a photographer can be found here, but the gist of it is, you want someone who you feel comfortable with.
There is absolutely no shortage of incredible artists in the Milwaukee area, and doing an initial search can be a daunting task....seemingly impossible to narrow down your choices!
The couple in the above photo, Mary and Max, attended a wedding show in Milwaukee at the Crown Plaza West....and I happened to have a booth there! For me, this is such a great way to make a first connection with clients who otherwise might not know where to start on their planning process.
The three of us were able to talk openly about a typical wedding day, the services I offer, and I could answer any questions they might have had - right there on the spot.
It's also a perfect way for potential couples to learn about the personality of the prospective wedding photographer.....a SUPER important factor, I might add.
After speaking with Mary and Max, I felt like we made a great connection...if I can make a couple laugh, and get emotional about the thought of their wedding day in a 5 minute conversation, I might be the best wedding photographer for them. *jokes* But I surely hope so! Turns out in this case, I was!
Working with them for their engagement photos just added to the entire experience with me.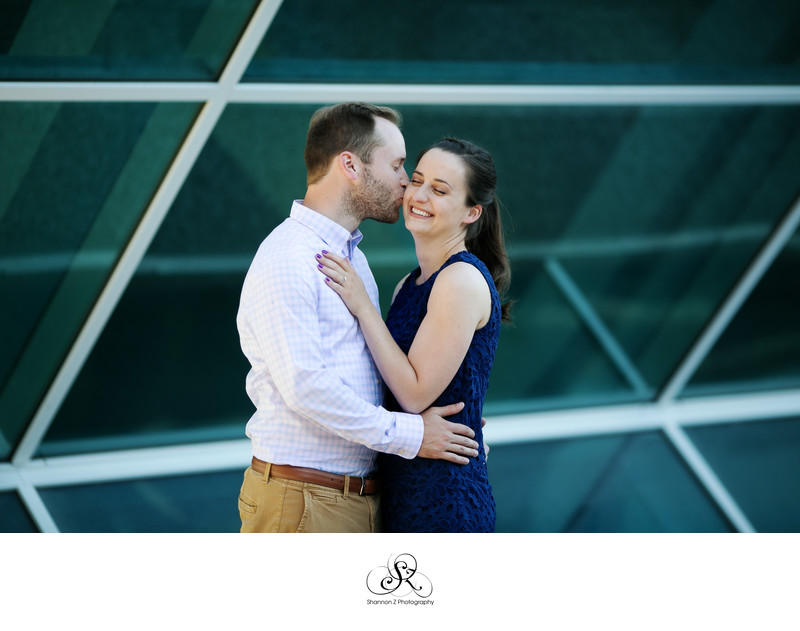 It's a great way to set expectations for how the wedding day portrait session will go, and to make sure that my couples feel comfortable in front of the camera!
For Mary and Max, we went to the Milwaukee Art Museum, and the South Milwaukee Beer Garden to give them a wide variety of images to use for their photo book.
When it came to the wedding day - their ceremony took place in a church, while their reception was at The Atrium in Shorewood.
We had a GORGEOUS sunset that day...and as you can read here....you'll see that I love capturing the nature elements of a wedding day to complete the story for you!
Location: 2107 E Capitol Dr, Shorewood, WI 53211.