Wedgewood Northshore wedding
What used to be known as Midlane Golf Club in Wadsworth, IL has been rebranded as Wedgewood Weddings Northshore. This national property management company has done some extraordinary work at this Lake County wedding venue to service their wedding clients.
Renovations have been done to provide two outdoor ceremony spaces - one by a gazebo and pond, the other on a semi-private terrace. In case of inclement weather, there are also two locations indoor for your ceremony.
In house wedding professionals are available to help with the planning, decorating and doing whatever it takes to make sure the day goes off without issue. Their main ballroom, decorated with gorgeous chandeliers and maximum capacity of 400 guests, also boasts beautiful large windows overlooking the gardens and providing lovely natural light in the space.
Getting Ready
Wedgewood Northshore offers a private bridal suite for all your wedding day prep needs. While there isn't any natural daylight in the room, it is a nice space to host your wedding party for some fun getting ready memories.
Outdoor Photo Opportunities
There are so many great spaces for beautiful portraits at this Lake County wedding venue. This couple chose to have their first look right outside the main hall entryway - which with the help of a little direction, I was able to get them to stay within a space that I could avoid capturing the construction fence and parking lot around them. I often times provide some direction ahead of time to my clients during the first look, especially if we are in unique lighting situations or struggling with non-flattering back grounds. This bit of direction helps to create some really gorgeous images in a space that is otherwise not-so-gorgeous.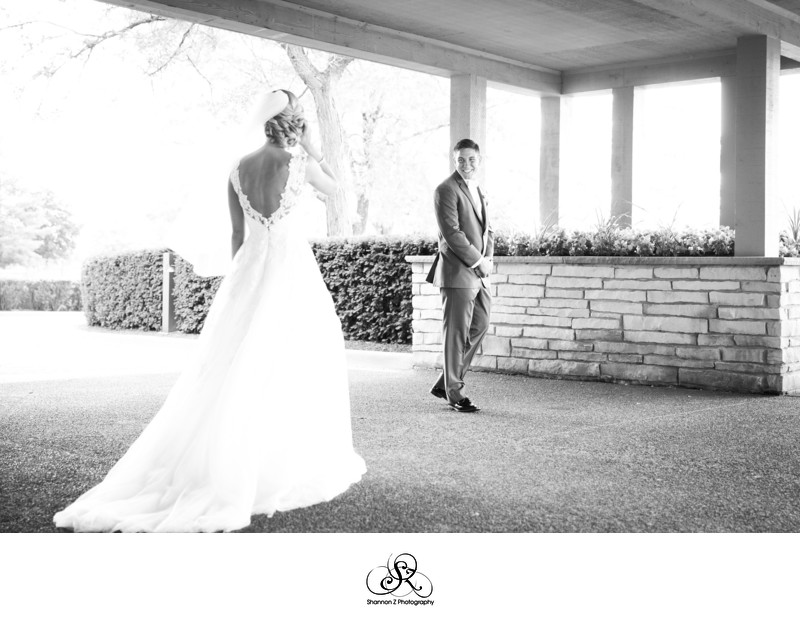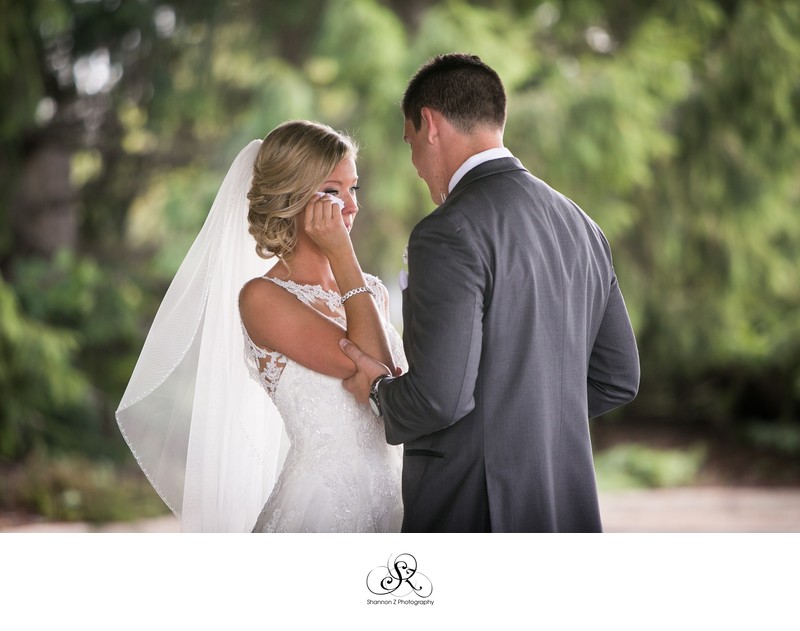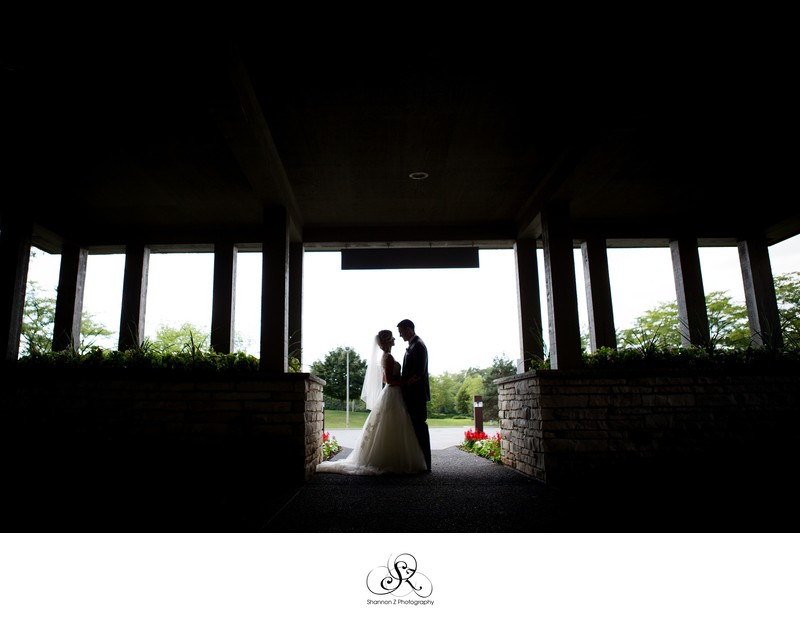 With this venue being at a golf club, the grounds are very well taken care of, with above average water features, photo opportunities and landscaping.
A short walk past the parking lot, brings you to a river with a small waterfall and beautiful flowers surrounding it.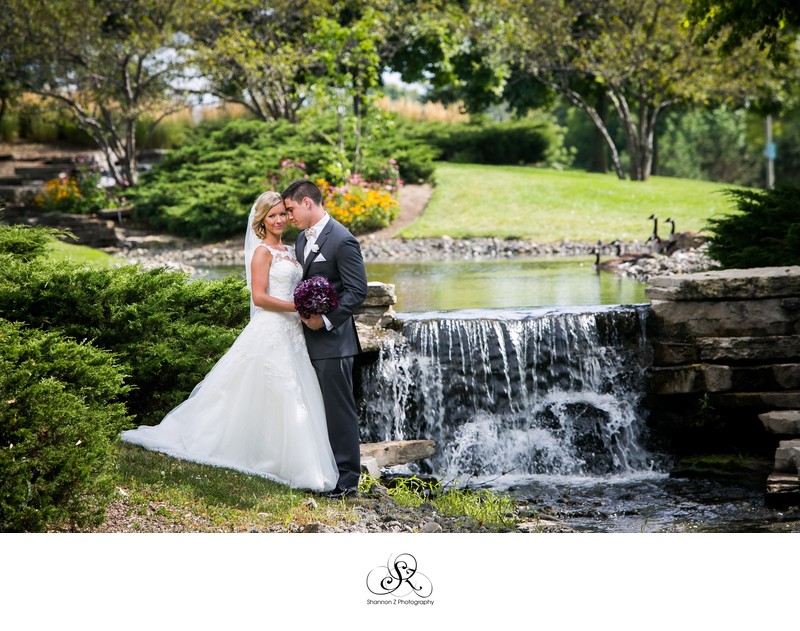 Just outside the club house, is a gazebo, pond and water fountain - this is one of the outdoor locations for wedding ceremonies. Along the way to the gazebo, is a small bridge and sculpture. Another opportunity for some great shots.
Terrace Ceremony
The newly landscaped terrace, is a great place for a wedding ceremony. Surrounded with greenery, and brick half-walls, it is a semi-private space to say your vows. I love that after the recessional, you can immediately turn the terrace into your cocktail hour location, allowing guests to enjoy the outdoors while you either mingle with them, or head off for more photos.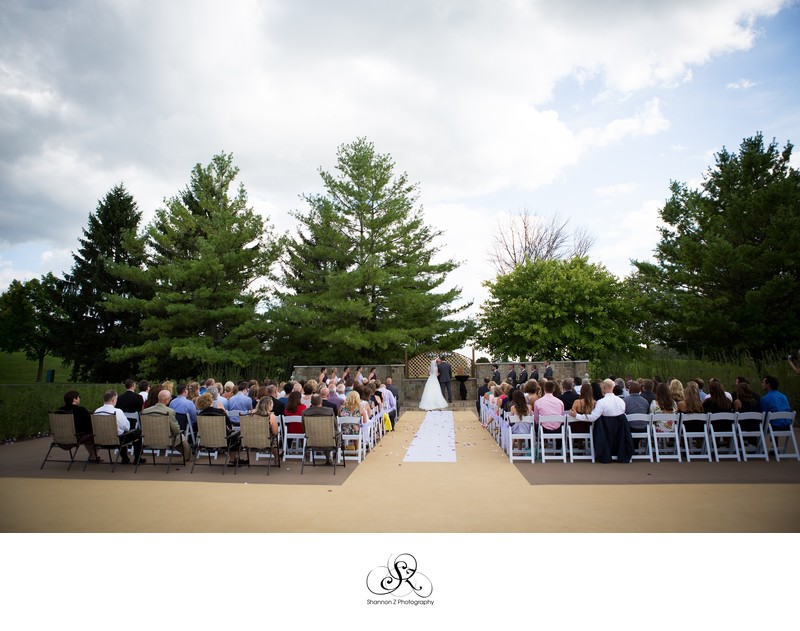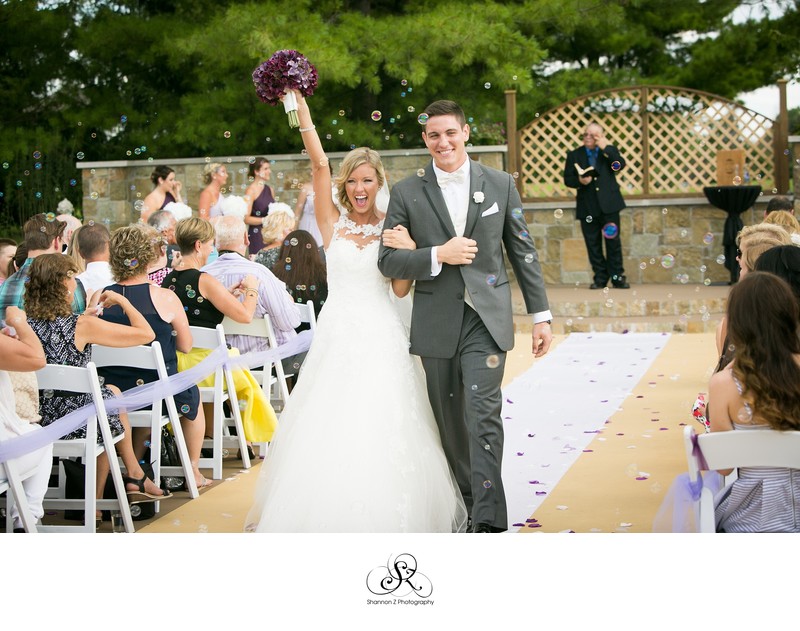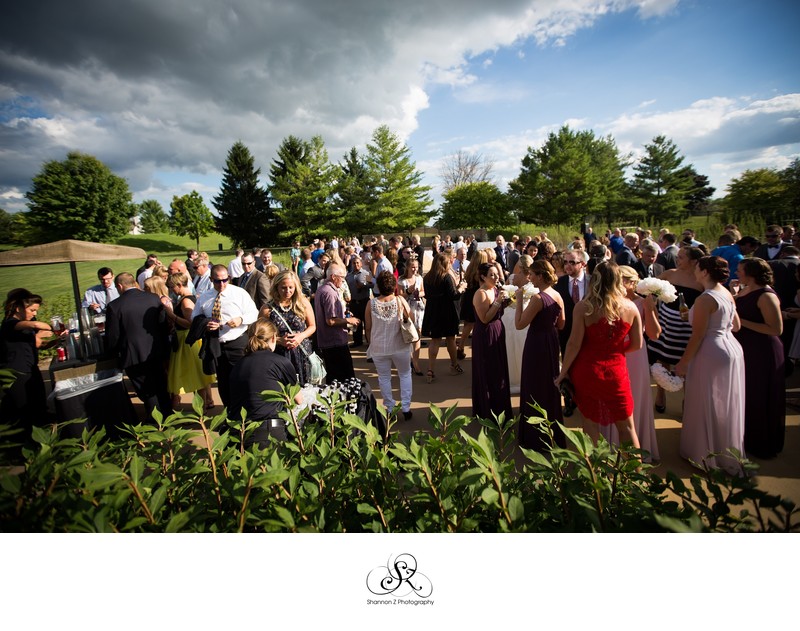 Just through the treeline next to the terrace, is a golf cart path that passes through a tunnel. Now THIS was a fabulous little hideaway place for some great, intimate photos of the bride and groom. I love taking a few quite minutes with my couples after they've been married to allow them some time to soak it in, and just be themselves for a moment. The wedding day is such a whirlwind of events and emotions and people - taking a 10 minute breather is essential. I typically direct my clients into great lighting, and encourage them to talk, laugh, embrace and just be their married selves for a second with no other expectations from anyone. I find they appreciate this time - and if need be - I'll walk away and let them continue their private moment for as long as they'd like before returning to the rest of the event.
Ballroom Reception
The reception typically follows the same timeline. Grand march (or wedding party announcement), blessing, dinner, speeches, cake cutting & first dances. Sometimes speeches and cake cutting are before dinner, and sometimes clients rewrite their entire reception in their own unique way.
The backdrop of the windows behind the head table at this wedding was just to beautiful not to showcase. I used some off camera lighting to balance the exposure of the outdoor scene through the windows and the wedding party giving their speeches.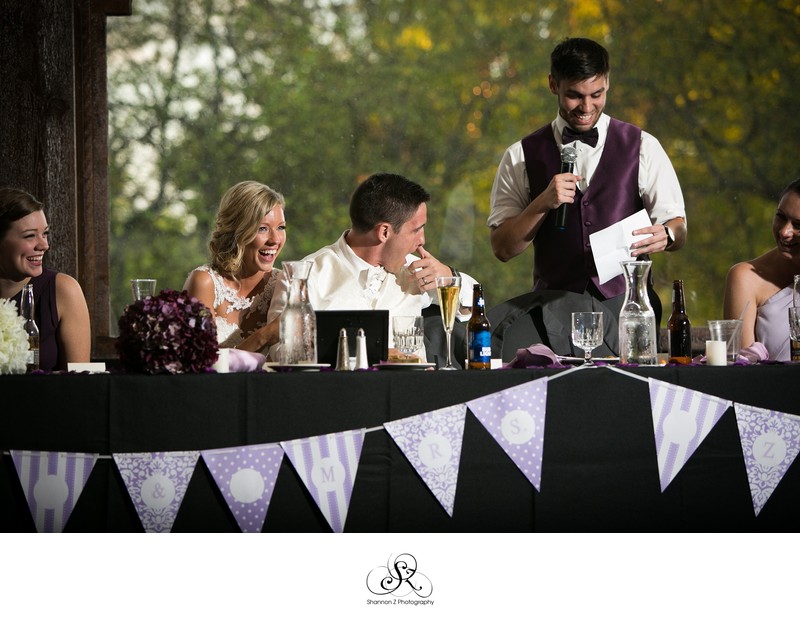 I also like to use quite a bit of off camera lighting during first dances to add some dramatic flair to the images, as well as to highlight the couple against all the 'noise' in the background.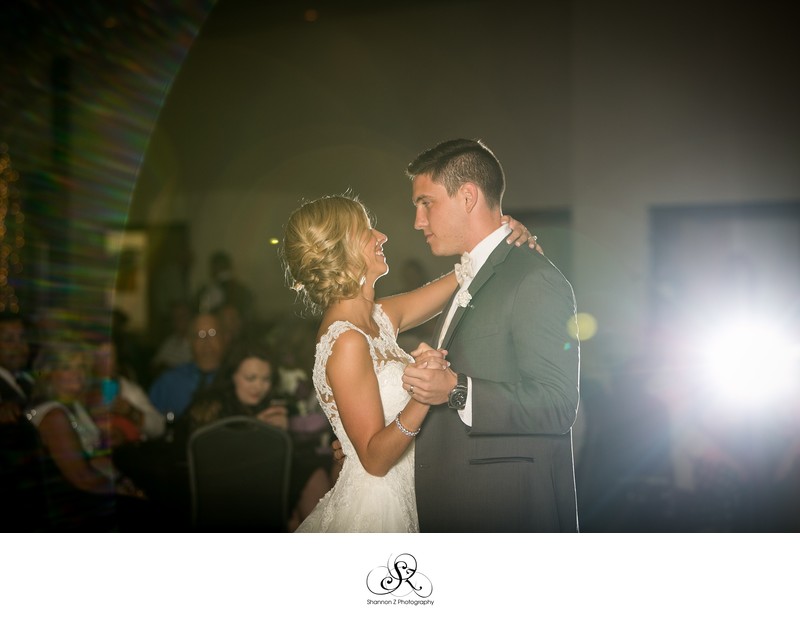 Once all the first dances are over, and the DJ opens the party up for all the guests, I then stick to a more basic approach. A wide angle lens with a flash on camera bouncing off the ceilings - if they're light colored (and they are at Wedgewood).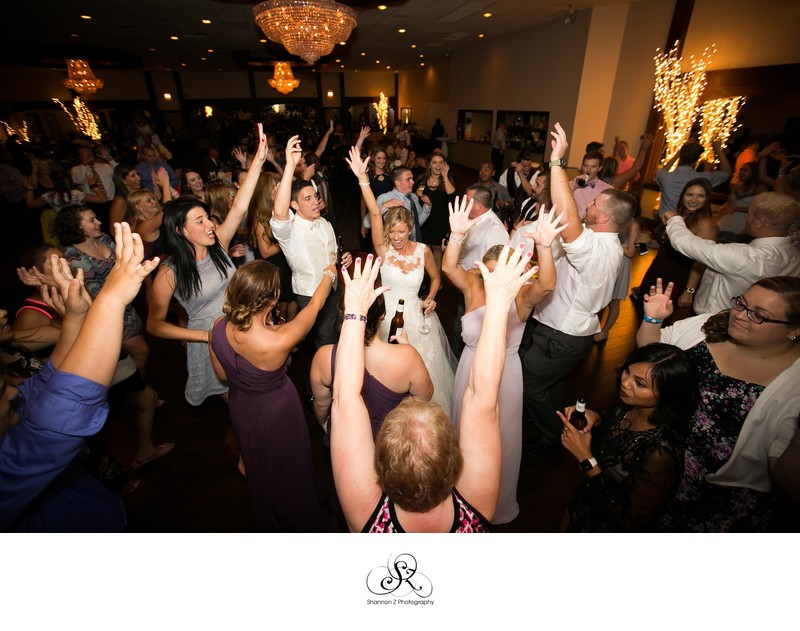 Location: 4555 W Yorkhouse Rd, Wadsworth, IL 60083.