how to Plan Family Photos
---
---
When
---
Choosing a time of year, or even a time of day, depends on what type of family photo session you're going for.
Full Extended Family - Holiday season is a great time to hire a family photographer for extended family photos such as the one above, as most out-of-town members are home for the holidays. You'll want to plan ahead for this, as you can imagine, it's a busy time of year for photographers as well. The number one "last minute" time of year request is Thanksgiving. I typically get about 3 requests within a week of Thanksgiving asking if I can do a quick photo of the entire family while they're all together.
Summertime tends to be another great time for extended family photos. I've often traveled out to Lake Geneva and captured families who are vacationing there together for a week-end. Family reunions, graduation parties and weddings are other events which tend to gather extended family members in town for a similar reason, and a great time to hire a professional photographer.
Household Family- Keeping it smaller, and updating your family photos? No problem! These can be done anytime of year, based on both of our availability. If it's something you do annually, I suggest switching up the seasons to get some variety.
Golden Hour - That sliver of gorgeousness in the 60-90 minutes before sunset. It's a great time to do photos outdoor. If you can't make that time work for your family - that's okay. We can still make beautiful photos anytime of day in the right location.
Where
---
If you're open to suggestions, there are some great spots around Kenosha for family photos. Again, it will depend on how many people you'll have as well. Places like Petrifying Springs Park, Lincoln Park or Southport Beach House both offer significant variety at one location. We can do large group shots, break off to smaller individual family photos, and even different combinations of family members. Choosing a place like Pets Park in Kenosha is good for a large, extended family photo session.
Downtown is great for smaller family photos, where we can do more lifestyle images. For instance, my friend Connie & her family have a sail boat. They spend a lot of time in the Kenosha Marina on their boat, so it was natural to do their family photos on the dock & on their boat.
If you have a location in mind - I'm happy to work with you & make your session one you'll love.
Other ideas for locations - your favorite park/playground, an ice cream parlor, your backyard or front porch...like the family below.
What to Wear
---
Pinterest is a wonderful resource for ideas on outfits and color coordination. I have an outfit inspiration board you can see here.
It's probably easier to say what NOT to wear to your family photo shoot.
baseball cap
neon colors
bold or loud prints & patterns
shirts with graphics (Fox, Underarmour, etc)
if you wear leggings, be sure your shirt is long enough to cover *those areas*
clothes with holes or stains
If you're concerned about specific parts of your body - communicate that with your photographer. I will pose my clients in specific ways if I know they have a 'good side' or a concern about something.
Choose clothes that you're comfortable in, and that highlight your best features. The pinterest board I linked to above, also has color tone and neckline suggestions based on your skin & body type.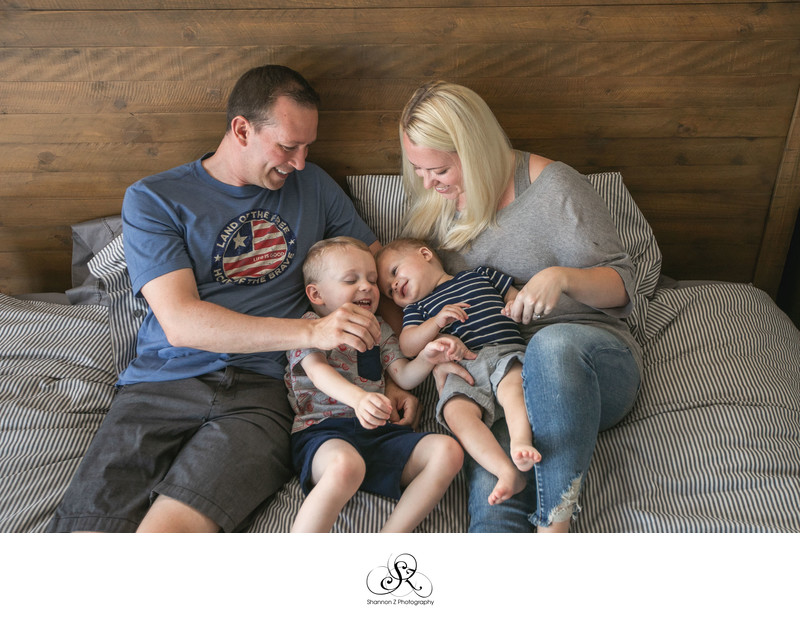 Session Types & Ideas
---
If you're familiar with me, you know that I have many loves when it comes to photography. On one end of the spectrum, I love documentary, unscripted family sessions. On the other end, I also love fine art, full posed / lit / edited portraits. In between there, is the typical lifestyle, family session which commonly takes place outdoors and yields a combination of posed and unposed images.
Documentary
Why I love these sessions....
Real, genuine moments
Photos that speak to who you are as a family
Humor, emotions, & love can make some great photos that translate feelings to the viewer
They become more and more invaluable every year
What does it look like? Ideally, we'd do this in your home. I don't follow the true rules of documentary - so I do suggest you coordinate your outfits to match the environment, and I will also provide suggestions, directions or prompts to make the most of our time together. Organizing activities that you enjoy doing together is another way to make beautiful and FUN photos. Some ideas....
Board Games
Baking
Nerf war
Jumping on the bed
Reading books
Crafts
Going to the park / going for a walk
Playing in the yard (sports)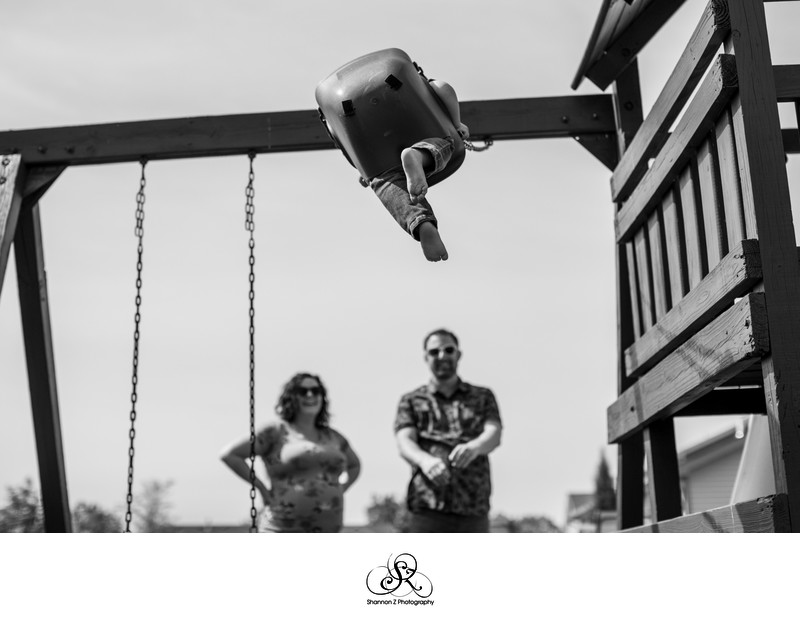 lifestyle Family Photo Sessions
Lifestyle family photos can also be done during the documentary session. Or, you can schedule a lifestyle family session as a stand alone.
Important aspects of these shoots...
Outfits
Location
Connection
You want to choose your outfits carefully - referring back to my 'what to wear' segment above.
The location will determine the 'feel' of the images, so we can talk it out based on what you want.
Connection - this is where we need to work together throughout the shoot. When I say connection, I mean two things. 1. Connection with eachother. 2. Connection with me
If you're not accustomed to having family photos, or you're used to having stiff, posed photos, it's common to get upset or stressed out if the kids aren't cooperating. THIS IS NORMAL. We'll get there - but if it takes a few minutes for the kids to get their sillies out, then let them...and connect with them while they do it. This is lifestyle. Relax, smile, laugh, play, hug, interact....all of that will make for beautiful photos of your family. Then, I'll say "Hey, everyone look here!!" and 'snap' you have a camera aware photo - where everyone is relaxed and genuinely happy. See how that works? Getting upset, frustrated or angry will translate that type of energy to the camera & to the kids, and that's the LAST thing I want you to remember when you see your images.
Trusting me as your family photographer, connecting with me, makes the session go better and gives you photos that you'll love!
Studio Family Photography - These are pretty specific - posed, directed, static & deliberately lit. I only do the artistic styled shoots like this when clients specifically request them. If someone "just wants some nice pics" in the studio, I will definitely offer that, but not quite to the level of fine art. Portraits like these are intended to be professionally framed and hung on the wall forever. Not to be replaced with next year's picture. It's for life.