---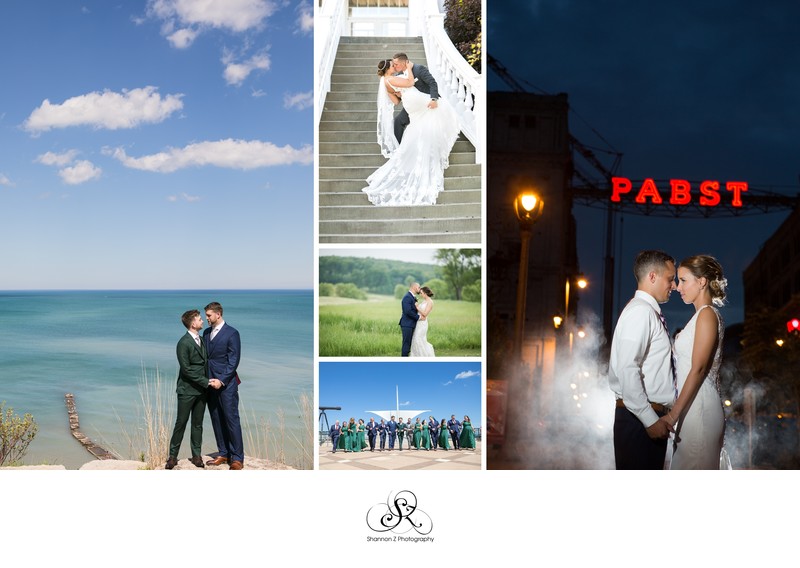 What to Look for in a Wisconsin Wedding Photographer
---
Professional
When looking for a wedding photographer in Wisconsin, you're sure to find a lengthy list of prospective businesses. How do you determine which one is the best option for you?
do they have an up-to-date portfolio on their website
are they active on social media
do they have client testimonials or reviews
are they willing to skype or meet with you
do they use professional equipment
do they charge professional rates for their services
do they actually have a personality or are they a boring information robot? ⬅️(Me trying to not be a robot)
So you might not know the answers right away, but you should be able to find out the answers pretty quickly, or after sending at least an inquiry to them. OR - CALL them - (rule out the boring robots)
If professionalism (both in business and personality) is important to you - then you definitely want to do some in depth research before choosing a photographer that you'll be trusting your wedding day with. (BTW>>>We can be professional AND fun)
Live in Wisconsin
Not a requirement, BUT I have lived in Wisconsin since 2002 (after having grown up in Canada - eh) The wonky midwest weather is not foreign to me! While I've visited many cities in Wisconsin - reaching all corners - I haven't been to ALL of them. That being said, I love finding new places to work & discovering what they have to offer by way of photographic opportunities as they unfold to me.
Will Work Near Me
As a full time professional photographer, I am more than happy to travel for weddings. Depending on the schedule, and distance, an overnight may be required since I'm not a robot - So extra fees for a hotel would be added. My home is in Kenosha, WI.
Photographed at my Venue
I've photographed weddings at various venues in Wisconsin. From Slinger, to Platteville and Sheboygan. If you'd like to see a list of some of the wedding venues I've worked at, along with details & photographs, you can visit my Wedding Venues Page.
Experience Shooting Weddings
I photographed my first wedding in 2010, having booked 8 that first year without having had any prior wedding experience. Not something I'd recommend to anyone (potential Bride or aspiring photographer) - but I did it, and I thank the couples who trusted me with their memories when I had nothing but ambition & drive to make my business work. Since then, I've photographed exactly 200 (as of 7/16/19) weddings as the primary photographer (plus a handful as a second photographer). In addition to the on-the-job experience, I've kept up to speed with the fast pace of technology, equipment and wedding trends - all which effect the way I approach my work. I've also been fortunate to discover some invaluable photography education which has helped me in all aspects of the business. After all, running a photography business is 10% taking photos, 89% running a business and 1% being an ass-kicker.
Can Handle any and all Weather Conditions
Weather in Wisconsin can be a tricky thing. April can bring us snow storms, or 70 degrees and sunshine. June can be sweltering, or gracing us with thunderstorms and hail. October can be warm, windy and welcoming - or cold, windy and wicked. WHIP LASH. #amiright
Thing is, we never quite know for sure what a wedding day will be like until the day actually arrives. And because of this, you'll definitely want to have a photographer who is prepared to work in any conditions.
Having photographed couples in a beautiful snow fall, during a daytime thunderstorm, or at high noon without a cloud in sight - I am equipped with the knowledge and experience - as well as the gear - to make beautiful pictures no matter what.
A majority of the wedding ceremonies I photograph, are typically held in doors. In part because that's the nature of Wisconsin Weddings - what with the weather issues. It's imperative that I have several lights & light modifiers in my arsenal of equipment so that I can provide high quality images to my wedding clients. Winter weddings in Wisconsin don't usually provide us with much daylight - another reason having extra lights, and knowing how to use them, is very important.
Can Shoot Indoors
Although the number of weddings that were entirely shot indoors are few - it has and can be done. I love wide, environmental photographs, so I always try to get my couples outside for a few portraits, no matter the weather or time of day. Part of my story telling, is to show what the day - or night - was like the day you were married. If it's raining, snowing, windy, has an epic sunset - I love documenting that for you. If it's freezing and you just do not want to go outside at all - which it's happened a couple times - then I have no problem creating photographs indoors to show the beauty of your day.
Know Great Wisconsin Photo Locations
There are absolutely great, and epic photo locations in Wisconsin. If I don't know off hand of one in your area, or where you're going to be getting married, I will look for one if you'd like me to! That being said, sometimes simplicity is all you need, and I can make beautiful pictures in the busiest of neighborhoods / cities / parking lots. You can find some behind the scenes examples of how I find beauty in the every day circumstance. Trusting your photographer for their creative eye is part of the equation of getting great photos. The other part, is communicating to them what your vision is for your wedding day, or what inspires you when it comes wedding photos.
Know Other Wisconsin Vendors
Having photographed as many weddings in Wisconsin as I have, I've been fortunate to meet many professionals in the industry. From Videographers, to florists, and incredible venue coordinators. You can view a list of my favorite vendors here.
Provide Engagement Photos
Engagement photography is definitely a service I provide to my clients. When looking for a wedding photographer, it's tough to find out exactly what they'll be like when working with them, and having an engagement session is the perfect solution.
I like to brainstorm with clients about different ideas for engagement photos to make it fun & ensure you get the most out of our time together. I've had couples opt to have their engagement photos at the same location as their wedding, during the same season. Or choosing to have them done opposite season from their wedding, to get a completely different vibe. I've photographed clients in their home, their favorite restaurant, or establishment - and even *attempted* to photograph a couple in a hot air balloon. Sadly it was too windy. (Wisconsin!).
Price
You may find that pricing for Wedding photography in Wisconsin varies dramatically. Milwaukee, being a Metro area, will likely have a higher average cost than Wausau. I can't speak to other photographers on their pricing and service structure, but I do know that as my experience increases, so do my prices. I try to remain fair to my market, but I also understand my worth and the value of what I provide to my clients. The most popular package I have is $2900. Since there is no one way to price and package wedding photography - you'll have to do some digging, and emailing to find out what you want, and how much it will cost you.Typical package items:
Main photographer
Assistant and/or second photographer ** these are not always the same thing!
6, 8, 10 + hours of coverage
Albums or photo books
Prints, wall art
Digital images, USB
Engagement session
Well Known
I remember the first time I was introduced to someone by a mutual friend, and she said "Oh, are you Shannon the photographer?" I felt like "this is it...this is what it means to be famous!" 😂 Despite the fact that hundreds of people were fans on my facebook page, and hundreds more had seen my work through their friends posts - it was still pretty cool for someone to know me before I knew them.
Sadly, my fame hasn't risen much more than that. But in all seriousness, I do what I can to remain active in my community, work with organizations that support women & children, make annual charitable donations and give back to my clients to show them how much I appreciate them. Does this make me well known? Maybe not....but at least I can say that I haven't been known for any negative press. 🙂
Published / Accolades / Reviews
I don't *love* telling people the good things other have said about me. That's why the review system on many wedding websites and the google platform are so wonderful. Asking clients for a review might make some people feel shady - not me. I ask everyone for a review, because I want potential clients to be able to read - from the horses mouth - what it's like to work with me. Wedding clients, portrait clients, and even real estate listing clients. No matter the bottom line of your invoice - I will treat you the same, and it's important that others know that.
When it comes to awards or recognition, I don't know how much weight that holds. Sometimes it's based on how many reviews you've received, sometimes it's completely subjective (in a juried photograph competition), and sometimes it's a popularity vote - whoever has the most votes/likes wins. To me - the most important recognition I can get is repeat clients, positive reviews and referrals from past clients.
I have had some of my work published in online blogs. It's quite thrilling to see my name in digital print, and even more so for clients to see themselves on a blog they may have followed when planning their wedding. You can view a list of publications here.